What Is Google Discover & Why Do Marketers Need To Dominate it?
Discover How To Drive Website Traffic From Google Without SEO Or Adverts
There is a wonderful stream for content marketing seldom leveraged. In fact, most businesses and marketers do not know or appreciate the capabilities. But soon, you will.
As you'll already know, content marketing is a fantastic SEO tactic. Search engines reward great content. But there is another way Google is rewarding content marketers and publishers...
...You may have noticed Google pushing interesting content in the Google App.
You tap the app to search for something, and suddenly, you are distracted by a flow of picture cards and headlines.
You start to scroll through the deck while scanning the content.. pictures, headlines and summary... before tapping on the card that really grabs your attention.
You go back and continue scrolling and tapping before remembering that you were searching for something.
Welcome to a relatively new content marketing channel - Google Discover - Where people can find your content
To tell the truth, Google discover has been around for some time. Google Discover launched in September 2018. Previous to that rebranding, a Google app update made it easier for you to keep in the know. In December 2016, Google brought us our feed.
With constant news updates, changing schedules, and traffic delays, staying on top of everything can be challenging. The Google app has useful cards ready to help you keep track of everything you care about — from sports scores to that package you ordered — and we've been thinking up ways to make the experience even more helpful. That's why we're rolling out an update to help you stay organized and in the know about the things that matter to you.
Since then, we've seen a "smart feed" that changes with you...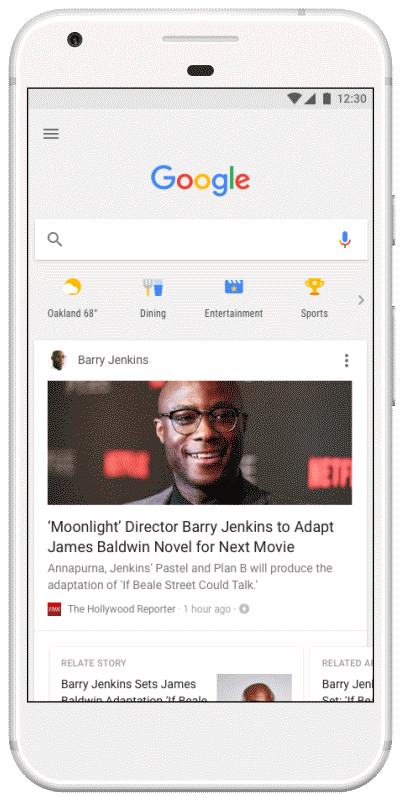 Today, we have a sleek and modern looking card layout with options to manage your interests, share content, and tell Google what you really love.
That is great for content marketers.
As interests changes over time, Google can deliver the best content from around the web directly into your hands.
Oh, by the way, I say "directly into your hands" because Google Discover is only available on mobile. No doubt, you'll have seen it in the Google App, and maybe you'll have seen Google Discover in the Google Chrome App too.
On that, Google Chrome takes a slightly different feel. It only displays the image and headline. Nevertheless, that's more than enough to grab attention.
To be clear what Google Discover is, Google says...
Google Discover Is Different From Search
Search enables you to find helpful information. You have a question, and Google Search provides answers. But instead, Google Discover reveals content based on your interests.
Consequently, you receive a highly personal feed. Google Discover "actively tunes itself to a user's interests and displays content that aligns with those interests".
With that in mind, you can expect to see all types of helpful content. That could be newly published or significant content to feed your interest. Plus, Discover will provide a selection of topics you can choose. Just select one to discover delightful content.
To be frank, I've noticed how my Google Discover use has changed over time. There was a time that I flipped through Flipboard and devoured Feedly.
But these days, I'm more likely to scroll through Google News and Google Discover to see things pop up that I've been searching for (and thinking about. How do they do that!). Because, the reality is, Google knows me well and is more than capable of putting the content I like in front of me.
Viewing Google Discover From A Marketing Perspective
Two ways spring to mind. Compared to Search traffic, Discover is less predictable and dependable. However, now you have a chance to get competitive keyword content in front of Google users without an SEO headache.
Normally, that task can be difficult to achieve. It may take a lot of SEO magic to get on the first search results page for competitive keywords and phrases.
Either way, Discover should be considered supplemental to your Search traffic. Google Discover compliments your content marketing. Right now, there is an added incentive to produce quality content people want to see.
So why not get your website content on Google Discover to drive FREE traffic?
How To Optimise Content For Google Discover
It is straightforward to make sure your content is eligible to compete. Unlike SEO, where the game changes with an algorithm update, simply complying with Google policies and creating great content or newsworthy stories should put your content in contention.
Plus, if someone has already looked at your article or video or followed your site, then they are more likely to see your content appear in Google Discover.
So the rules of the game are simple...
...Make sure Google has indexed your site. You can check your coverage in the Google Search Console. All errors and warnings will show up there. Plus, be aware of Google's policies for Discover, Search and News. Should your content violate a policy, then it will not appear in Discover.
To increase the likelihood of your content appearing in Discover, we recommend the following:

Use page titles that capture the essence of the content, but in a non-clickbait fashion.
Include compelling, high-quality images in your content, especially large images that are more likely to generate visits from Discover. Large images need to be at least 1200 px wide and enabled by the max-image-preview:large setting, or by using AMP. Avoid using a site logo as your image.
Avoid tactics to artificially inflate engagement by using misleading or exaggerated details in preview content (title, snippets, or images) to increase appeal, or by withholding crucial information required to understand what the content is about.
Avoid tactics that manipulate appeal by catering to morbid curiosity, titillation, or outrage.
Provide content that's timely for current interests, tells a story well, or provides unique insights.
Optimise Content Title, Image & Summary
As you've seen in the examples above, cards can and should be image-heavy because they grab your attention. Your title should be interesting. And your summary needs to compel them to tap through for more. Actually, a good headline should do that too, especially in Google Chrome.
But as you can see below, it is easy to mess it up.
The issues here are simple to fix.
First of all, google is confused. Sometimes they display the correct title. But most of the time, they do not. That's because the meta title is set to the site name while the Open Graph meta title has the correct title. With that, a Facebook post will pull in the correct info, but Google will not.
Secondly, for maximum visual impact, the image needs to be large - not a thumbnail. As Google already said, "Large images need to be at least 1200 px wide and enabled by the max-image-preview:large setting".
To get the job done, all you need is to implement this meta tag:
<meta name="robots" content="max-image-preview:large">
Finally, make sure your meta description provides a brief and concise summary. As the description meta tag may be used to display a snippet about the page content in Google Discover.
Experimental Follow Button
As I write this, the Follow button is an experimental feature in the US only. The idea is to help you follow a website and get the latest updates in Chrome's Discover Following tab.
It's simply an RSS feed. Google automatically generates a feed for your entire domain, or you can optimise your web pages for the Follow feature. That could be a good option if you have multiple feeds on your site. You can adjust the Follow experience by telling Google which feed you want people to follow for any given webpage.
Mobile First
As Google Discover is only on mobile, your site and pages will need a mobile responsive structure. Naturally, you'll want to offer a good user experience, so your design and page speed is crucial here. Any pages that might have usability problems on a mobile device will need investigating.
Measure Your Google Discover Performance
To see how well your content is doing in Discover, the Google Search Console shows your performance. But there is a caveat. Your data needs to reach a minimum threshold of impressions before a new Discover tab appears in the Console.
Once the Discover tab appears, you will see "impressions, clicks, and CTR for any of your content that has appeared on Discover in the last 16 months".
From there, you'll see your best performing content and create strategies to maximise your impact. And you'll see bursts of traffic as you publish new content. Maybe churning out more content would be the way to go for you.
YouTube Content Marketing Strategy For Google Discover
Alternatively, utilise YouTube for publishing your content.
You may have noticed videos in your feed. That's because we love videos, and Google knows it. And they love showing us what we want, like and enjoy.
So, if it makes sense for your business model, develop a video content marketing strategy. That way, you can take advantage of the most consumed format to help you appear in Google Discover.
Overall, Google Discover is a great tool for content marketers and publishers. There is minimal work involved to set up your site correctly, as long as you have already focused on mobile-first and basic SEO. Then Google may send you free traffic as long as you don't break their rules.